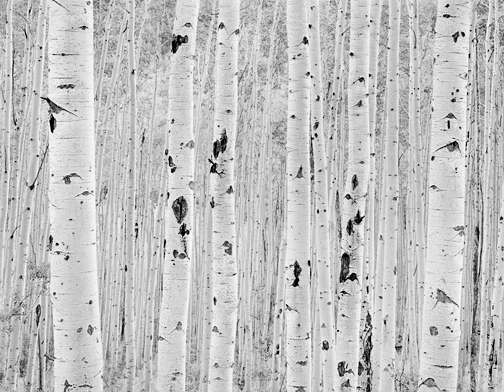 The image, Aspen, Quiet Light, was made just after the conclusion of an intense week-long photography workshop. I went to one of my favorite aspen groves fully intending not to make photographs; rather, I wanted to enjoy the aspens with their fall plumage in the late afternoon light, and to be rejuvenated. Arriving at the grove, I began to read from a book I had brought along. Periodically, I would glance up from my book and enjoy my view of the aspens, with their straight alabaster trunks. I felt refreshed by being surrounded with their beauty. Then, a surprising thing happened. The light began to change—the trees were now illuminated by the bright western sky. The sun had just set below a ridge, and the last beams of light were striking a few thunderclouds, reflecting onto the east-facing side of the trunks and creating an amazing quality of light that emphasized the cylindrical trunks.
I quickly set up my view camera, but was shocked when my light meter indicated a 4-minute exposure at f/45 with Kodak T-Max 400 film. How could a scene that seemed so filled with light actually be so dim? This is a mystery of photography and of the forest!
Once I complete the prints I need to make at this time, the negative will be retired for traditional silver printing, and will never again be printed in any size as a silver gelatin print.
This silver gelatin, selenium toned, print is approximately 13 x 10-1/8", personally printed by me (as are all my prints), processed to current archival standards, signed, mounted, and matted to 16x20" on 100 percent rag museum board.
All of the prints ordered will be shipped no later than March 31, 2020.
All prints are carefully prepared and packaged in specially designed protective shipping boxes, and shipped fully insured via UPS ground.
Normally there is a long waiting period for John's original prints. This is a rare opportunity to obtain a print with a short waiting period, and at a greatly discounted price.