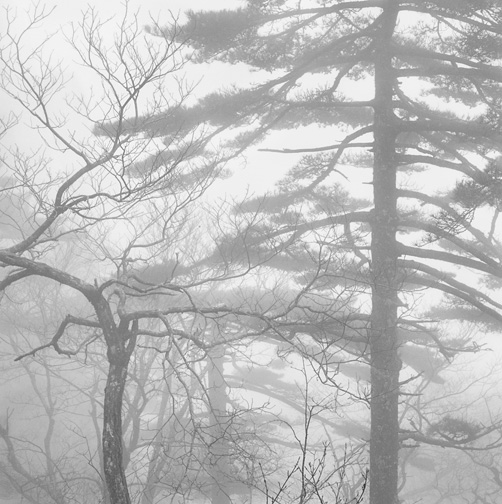 The image Trees in Mist, Huangshan, China was made during the last of three workshops I led in China during the 1980s. These workshops were part of a cultural exchange program between the Friends of Photography and the China Photographers Association. I led workshops in 1983, 1984, and 1986. On the last workshop I led we went to Huangshan. It turned out we were the first American photography group that had ever had an 'official' visit to Huangshan. We had camera formats from 35mm to 8x10. We were so excited. There was a problem however…

Though we were atop Huangshan we NEVER saw Huangshan. The photograph I have included as this special print offer is the only image I made during our two-day trip to Huangshan, as this was the maximum visibility that occurred during our time there. We had hoped for mist and fog to have accentuated the legendary mythic spires of rock so predominant in Chinese landscape paintings, however we had way too much fog to even get a glimpse of the most subtle revelation of any such shapes.

Early on in my photography I learned an important lesson - not to have preconceived ideas of what I hoped to photograph. If I imagined a scene with dramatic clouds, the sky would be completely clear. If I hoped for soft light, there would be brilliant sunlight. Returning home after one such photographic outing it dawned on me that this was not an enjoyable or productive way to work, and in fact it was truly frustrating. In addition, I realized I was missing opportunities that were in front of me because I had been "blinded" by my predetermined ideas.

On my next photographic outing I took a different approach. I had an idea where I wanted to go, but beyond that I tried to just explore and photograph what came my way. I found this a much more enjoyable, and indeed a more productive experience. It is the way I try and operate to this day. When planning this photographic expedition to Huangshan I had many desires for the workshop group, as well as for myself. As I described above, the situation that unfolded was completely unexpected. I believe my approach of photographing that which I see, respond to, and feel gave me the 'gift' of this photograph, which I am very pleased to share with you.

This silver gelatin, selenium toned, print is approximately 9-7/8 x 10", personally printed by me (as are all my prints), processed to current archival standards, signed, mounted vertically, and matted to 16x20" on 100 percent rag museum board.

All prints are carefully prepared and packaged in specially designed protective shipping boxes, and shipped fully insured via UPS Ground.

Normally there is a long waiting period for John's original prints. This is a rare opportunity to obtain a print with a short waiting period.